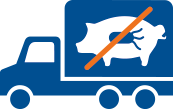 Food safety
As you know, porcine salmonellosis control plans will soon be obligatory in this country. Faced with this new health challenge, the sector needs to start implementing comprehensive, effective cleaning and disinfecting programmes for livestock transport vehicles.
Here at Cened, we're all ready to help you with the latest systems, facilities and procedures to combat salmonella.
To see for yourself the enormous difference between conventional cleaning and what you get at Cened, we invite you to find out more.
Preventing salmonellosis is everybody's responsibility!
With salmonella, it's time to play clean!
As porcine salmonellosis control plans are coming nearer and nearer, now more than ever is the time to get to work: this is the next challenge facing the pig sector.
This is why Cened, as an industrial vehicle cleaning and disinfecting centre, already has tools at your disposal to combat salmonellosis effectively: latest-generation services and facilities to work together towards this common goal. It's well worth it!
How is proper cleaning and disinfecting to prevent salmonellosis carried out?
Send us an enquiry
[contact-form-7 404 "Not Found"]