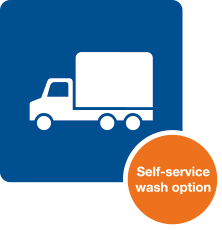 Industrial and refrigerated vehicles
Our lorry wash for industrial and refrigerated vehicles provides thorough cleaning, combining convenience and speed.
We also offer the option of disinfecting the inside of the vehicle. We also have official authorisation to seal it and issue a cleaning certificate.
This system also features a disinfecting arch at the exit to disinfect the outside of the vehicle.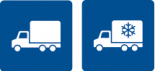 Drying
Services
Shower and WC
Different types of cleaning: degreaser, acid for aluminium floors, disinfectant (with certificate), etc.
Foam cleaning
Technical features
Hot water at 70ºC
High pressure up to 150 bar
Food safety
Option of issuing a food cleaning certificate
Environment
ISO 9001 and 14001
Water treatment system