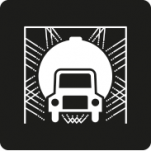 Bigwash – The lorry wash system for industrial vehicles
Thanks to high-pressure water jets and a brush system, the Bigwash system allows in-depth cleaning of any vehicle, especially those whose irregular shape makes them hard to clean in a conventional lorry wash system. Also, our staff are on hand at all times in case your vehicle needs a final going-over.
The power of the system also allows high-pressure cleaning of the vehicle under chassis, to remove sand and salt encrusted on the chassis.
The lorry wash process always ends with a final rinse with osmotised water to ensure a shiny finish without needing to dry the vehicle.
We can wash industrial vehicles of all kinds, from a van to a trailer, and including tractors, tankers and more.


Brush wash
Brush wash for regular-shaped vehicles, like a bus or a refrigerated lorry.

High-pressure wash
High-pressure washing for irregular-shaped vehicles like tankers or tractors

Under chassis wash
In winter, snow and salt on roads can harm the underside and functional components of the chassis. High-pressure cleaning of the under chassis of your vehicle.

Disinfecting arch
This system also features a disinfecting arch to disinfect the outside of the vehicle.

Other services
Manual cleaning of chassis by a member of our staff.
Option of cleaning wheels and tank with degreaser or acid.
Specialised staff at your disposal to offer a more personal wash.
Cab cleaning with shampoo and wax.

Osmotised water
Finish with osmotised water. To give a shiny finish without needing to dry the vehicle.

Separate products
Livestock lorries cleaned with acid.
Other products
Custom washes
Quality soap

Lorry wash cleaning
Cleaning of the lorry wash is automatic and carried out regularly