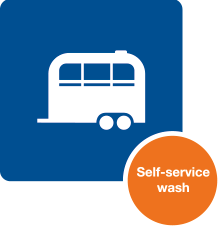 Livestock transport vehicles
We are the first public site in the province of Barcelona authorised to issue washing certificates for livestock transport vehicles.
We have two fully-equipped lorry washes which work at a pressure of 75 bar and 136 litres per minute. This makes it possible to wash away sawdust very quickly and easily.
These systems also feature a disinfecting arch at the exit to disinfect the outside of the vehicle.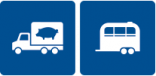 Services
Self-service washing
Open 24 h
Payment by top-up key
Cleaning certificate
Sealing
Lorry washes disinfected regularly
Environment
ISO 9001 and 14001
Separation of solid/liquid animal effluents
Technical features
High-flow pressure hose
Disinfecting arch and low-pressure disinfectant
Possibility of cleaning 3 vehicles at once